10 degrees Speakeasy Cocktail Party for 30 Guests starting at $9,500
10 degrees Speakeasy Cocktail Party for 30 Guests starting at $9,500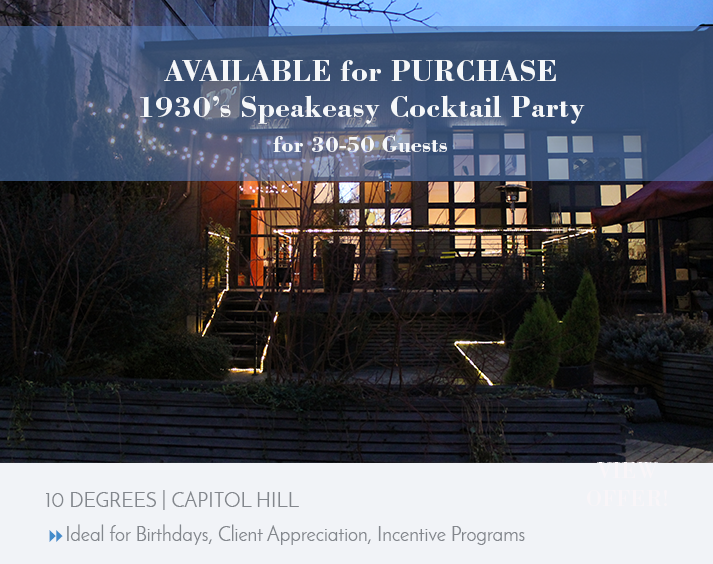 10 degrees Speakeasy Cocktail Party for 30 Guests starting at $9,500
Total Event Price for 30 guests is $9,500 (includes taxes and gratuities).   Additional guests may be added for $130 per person up to 50 guests maximum.  

$3,000 deposit to secure event and date space will be applied to Total Event Price (non-refundable)

Bar minimum of $350 included in package price. Billing added to final invoice based on consumption

Guest count and full payment due 7 days prior to your event date

Need to chat before you buy? or further customize your special event? Call us at

(206)

826-1318
Ready to book your event? You are just a few clicks away!
Total Event Price for 30 guests is $9,500 (includes taxes and gratuities).   Additional guests may be added for $130 per person up to 50 guests maximum.  

$3,000 deposit to secure event and date space will be applied to Total Event Price (non-refundable)

Bar minimum of $350 included in package price. Billing added to final invoice based on consumption

Guest count and full payment due 7 days prior to your event date

Need to chat before you buy? or further customize your special event? Call us at

(206)

826-1318
Ready to book your event? You are just a few clicks away!
Here's What Some Call "the small print":
Purchase of the event is good only for the date selected; we're sorry that we can't guarantee alternative dates — but would be happy to ask. Let us know how we can help.

Deposits are non-refundable.
All inclusions are outlined in the package details, and will make a wonderful event. But we understand you may want to add your own little something-something. Don't worry – your event manager will be delighted to help you sort out extras. (It will cost extra – but will be worth it! Additional planning is charged at an hourly rate.)

You can have guests under 21 at your event, but we won't serve them alcohol. Sorry. We know c'est bon en France, but here the authorities frown upon that.

Please note: Package purchase price includes applicable taxes and gratuities. But if you feel you must, we're sure the catering staff wouldn't mind a bonus. It's totally up to you.

This offer is unique and as such can't be combined with other discounts, offers, special or promotional rates, or value-added programs. Nor can it be redeemed for cash, gift cards or gift certificates.